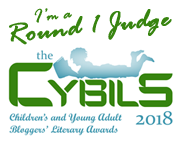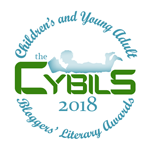 Nominations are now still open for the 2018 Cybils Awards!
And I'm starting to read books that were actually nominated in my category, Middle Grade Speculative Fiction. So make sure only the best get in there.
My
currently reading
edged back up to 28. I'll worry about that next year.
The Book Date
does a weekly roundup of what people are reading, want to read, or have read each week called
It's Monday! What Are You Reading
so I'll sign up there. There's also a version that is kidlit focussed at either
Teach Mentor Texts or
Unleashing Readers
and obviously I will be qualified for that as I spent last week reading several books that people were thinking of nominating.
This Week I started and completed:
City of Islands,
Kali Wallace.
Snared: Escape to the Above
, Adam Epstein.
The Turning
, Emily Whitman.
Smoke and Mirrors
, K.D. Halbrook.
The Royal Rabbits of London
, Santa Montefiori.
Ice Wolves,
Amie Kaufman.
The House in Poplar Wood
, K.E. Ormsbee.
2017 Cybils Reading
Spinning,
Tillie Walden. YA Graphic novel.
Beauty and the Beak,
Deborah Lee Rose.
Two Truths and a Lie: Histories and Mysteries,
Aimee-Joan Parquette. Ack -- this is the wrong one!
Read through the nonfiction picture books from last year. The winner was my second place, but it was really good.
Bookmarks In:



Son of the Black Sword
, Larry Correia. 11/?
Baen
's podcast serial. Traveling to the main office.
Stiff,
Mary Roach. Audio Reading My Library Quest book. It's a great book for the car since it consists of fairly short bits in easily digested chunks.
Jade City,
Fonda Lee. Last month's
Sword and Laser
pick. Only a few pages this week.

Stinger
, Nancy Kress. Kress is the next Foolscap GoH. I was easily distracted.
Honor Among Thieves,
James A. Corey. My next Reading My Library book. Pushed ahead a few pages.
Too Like the Lightning
, Ada Palmer.
Lady Rogue
, Teresa Romain. Time for a sex scene!
Someplace to Be Flying
, Charles D. Lint.
Shadow of Doubt
, Norah McClintock.
Left Hand of Darkness
, Ursula LeGuin.
The Rules and Regulations for Mediating Myths and Magic,
F.T. Lukens. Cybils YA fantasy book. The adventure is fun but the self-inflicted social drama is exhausting for the aged reader.
Two Mates for the Dragon,
ed. Zoe Chant. I bought this for a charity.
Palate Cleansers
These books I'm barely reading; I use them as palate cleansers between books I'm actually reading.

A Traitor to Memory
, Elizabeth George.
Sammy Keyes and the Art of Deception
, Wendelin Van Draanen.
Change of Heart
, Norah McClintock.
Inn of the Sixth Happiness,
Alan Burgess.
Reading and Learning to Read,
Jo Anne Vaca.
2018 Challenge Progress:
Cybils 2017! 60/104-ish. Read the elementary nonfiction, and ordered the middle grade ones.
Reading My Library: Working (slowly) on the James Corey book and Mary Roach's Stiff.
Where Am I Reading 2018?: 38/51. I have to hope for middle grade paranormal adventures set in the remaining states!