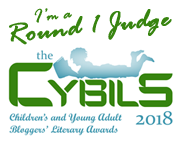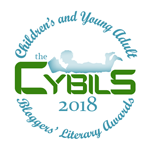 Final List is ready for my Cybils team. I'd better get cracking!
My category is Middle Grade Speculative Fiction. Thank goodness I belong to two spectacular library systems, King County (kcls) and Seattle, so I can get a lot of the books.
I Read:
The Scroll of Kings
, Sarah Prineas. Alexandron for a protagonist, and he's a librarian (in other words, a hero?) -- obviously I liked this book. Alex's firm minded pursuit of the best for his books was endearing, as was his no-nonsense approach to royalty. The Queen's dedication to her realm and her slow assumption of power also worked well, and the humor of her brother and his enthusiasm and misfires provided some relief. I'm looking forward to the sequels.
Denis Ever After,
Tony Abbott. One brother lived, his twin died. And before he moves on he comes back to unravel a complicated family history of violence and death and a life without hope of forgiveness.
Wizardmatch,
Lauren Magaziner. Lennie was great and I enjoyed her enthusiasm for mastering magic while being appalled at the casual cruelty of the adults in her life. The villain is expected to be evil, and the grandfather was a good plot motivator, but the mom had no excuse. I could see her betraying her daughter, but doing it without noticing how painful that was (especially after the explicit conversation!) was a bit over the top.
The Boy, the Bird, and the Coffin Maker,
Matilda Woods. The moods and vocabulary rocked me to contentment in this story set in a magical Italian-ish town by the sea, where the wind blows the fish directly to the kitchens and a lost boy finds a home, and then finds a new one.
The Frame-Up,
Wendy McLeod MacKnight. A girl from long ago and a boy from now struggle with the secrets their father-figures are keeping, ones that might cause more damage than they know. The idea of personalities awakening in portraits is intriguing, and I liked how the kids used blank canvases to smuggle people about. The angst with the distant father is handled well -- the dad is believably bad at communication.
The Wild Book,
Juan Villoro. Are all Spanish books this vivid and full of delightful metaphors? Or is is just filtered by the ones that get translated? Although I also wonder if they all view females as a strange and delightful species beyond the ken of males, which is a bit annoying. The mysterious house full of books was delightful to spend time in.
Endling,
Kathleen Applegate. An interesting world building including many different races of intelligent life with complex relationships. I forced my book club to read it and now we are looking for a word that means cannibalism but for eating sapient species that aren't your own, a word that would include many characters in this book, including the hero. It does a good job of keeping the stakes high while also foregrounding characters rather than politics.
Magic Misfits,
Neil Patrick Harris. Kids with highly exceptional talents in the many aspects of stage magicians band together to stop a crook. Our viewpoint has just arrived in town, homeless and with a shady background, and his struggles to fit in (and eat) keep the plot on its toes. I'm still not sure what was magic and what was just unexplainable.
A Problematic Paradox,
Eliot Sappingfield. A girl made miserable by being smarter than all her peers discovers that her dad has been holding out on her when his kidnapping sends her to a boarding school that stretches her to her limits. I found the voice refreshing and the cavalier approach of school supervision very Hogwarts. Even the food jokes were amusing.
Flip the Silver Switch,
Jackie Yeager. Having missed the first book, I felt a bit unconnected to some of the characters in this story of a fantastical version of an invention contest. There didn't seem to be any limit to science -- anything the kids could dream up they could somehow make, and their choice of invention rang all sorts of Machiavellian alarm bells for me. It gave a good portrayal of kids forced to work together as a team, and stumbling and picking themselves up to use their respective strengths.
Other Wood,
Pete Hautman. Fascinating tale of two young people making a friendship despite their parents, and then losing each other -- literally, as reality splits. The vivid sense of eight year old mentality and then the slow growth in the different worlds works really well, although I wish the kids had more agency in the developments.
When a Ghost Talks, Listen
, Tim Tingle. This series is retelling the story of the Trail of Tears through a Choctaw family and ghosts than can go forward and back in time. The emphasis is on teaching the traditions of the nation and the history of this tragedy rather than on the story-telling effects, and in any case this is the second book in the series. I'm still now sure how dead our main character is (I think mostly?).
The Marvelous Adventures of Gwendolyn Gray,
B.A. Williamson. A magical tale of imagination powering portals and energizing transformations as Gwendolyn battles the soul sucking (first figurative, later literal) conformity of her gray and dispirited city. The kids at school are bullies, but any speck of decency is drained from them by the powers that be. The ending is a bit muddled metaphorically, as Gwendolyn's powers are both greater and less than they seem.
Escape the Underdark,
Matt Forbeck. A choose-your-own adventure done in classic D&D mode -- you start in a tavern having a drink, and then things go downhill quickly. I wanted a bit more complexity -- I didn't find any loops or even reused options, and apparently some people were just doomed to die; there was no way to save them.
A Dash of Magic,
Anna Meriano. The youngest in a family of sisters has trouble waiting her turn; when everyone but her is included in a family secret it's hard not to feel left out, even when after learning that she'll be old enough in a few years. I really liked the mom's approach at the end, when she acknowledged that it's hard to yell at a child for keeping secrets after modeling that for their entire life. (Take that,
Wizardmatch
mom!) And the way she struggled with asking for help but realized that when she put a friend in danger it was time to bring in more support, even if that meant getting in trouble.
Buttheads From Outer Space,
Jerry Mahoney. I was hoping for a light funny read, but this went a bit far in the low humor direction. The kids were all about the potty humor, the adults all fairly stock characters, and the idea of blogging middle schoolers might already be obsolete. But it was a nice break from death and angst!
Winterhouse,
Ben Guterson. I listened to this on audio, and I think I would have preferred is as a book because I can't make CDs go fast enough to really enjoy. Also, the protagonist stole a book. But I liked the friendship she built with the other abandoned kid (Freddie) and how they could fight but apologize and make up. For me the funniest part was when the kids were puzzling over the mystery of why she was asked to check in with an adult twice a day. Hmm. Why ever?
Clara Voyant,
Rachelle Delaney. Clara really misses her practical, organized grandmother who has utterly abandoned her and moved to Florida, leaving her with her woo-woo mom. She picks up a best friend who utterly embraces the occult, and then finds herself saddled with writing the horoscopes for the school newspaper, horoscopes which have an uncanny habit of coming true. I liked her approach to having mystical powers: something she'll deal with after the important stuff like excelling as a reporter gets taken care of.