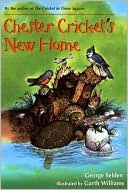 Most people aren't aware there are sequels to
George Seldon
's The Cricket In Times Square, which follow Chester Cricket back to his Connecticut meadow and observe his gentle adventures there. I know I read Tucker's Countryside but I didn't notice the others.
Chester Cricket's New Home
is a pleasant young elementary school book about a cricket who loses his home and tries out various creatures as room mates. Of course, no one else sets his home up the way Chester likes it, and he has amusing adventures until his true friends help him find a home that meets his needs, not theirs. Nothing to object, although no signs of forgotten greatness.
It looks like the Seattle Times gave this book to one of my kids, so thanks to them for this book. I'll probably donate it to a third or fourth grade classroom.
BarockSchloss CC License