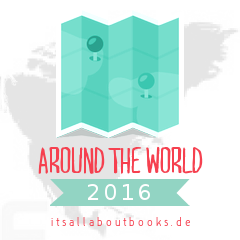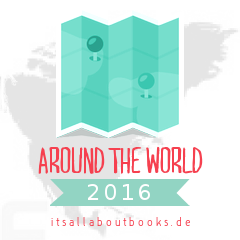 I've been doing
BookJourney
's Where Are You Reading? Challenge for several years now. Some years I make it through all fifty states and some years I don't, but each year it gives me a chance to read books I wouldn't have found otherwise, which is what I like. In 2015 year I kept up a comfortable pace, still having to do some concentrated reading at the end, but nothing too isolating. Also, I had a lot of fun and read some interesting stuff (a run of mystery series at the end, plus a fascinating account of the Mustang Ranch in Nevada). So I felt successful and I read some fun books.
So this year I'm starting again, but hoping to spend some more time outside the US. I'm even putting the foreign countries at the top. BookJourney isn't hosting this year, as she has scaled back her blogging after a family tragedy, so instead I'll hook myself to
All About Books
's
Challenge Around the World
. I'm also going to try using a google map again, just to be pretty, but also because the other map program is getting harder to use for my purposes. To be fair, the people running the site never dreamed of my purposes, so I can't really blame them. But I'll have to be satisfied with fun pin points instead of coloring the world.
Also, I'm not sure I'm doing it right. Here's a link
My Map
. All about books doesn't want to count books that I started before 2016, but I'll star them and include them because that's how I track stuff.
Continents: 5/7
Asia:
Japan: Twin Spica 4, 5, 6, 7, 8, 9, 10, 11, 12; Dreaming Spies, Life-Changing Magic of Tidying Up, The Reason I Jump
Indonesia: The Heist, Year of Living Dangerously
Iran: A Bride's Story 5, 6, Funny in Farsi
Kazakhstan: Bride's Story 8
Turkey: Bride's Story 7
Burma: Crux
China: Starry River of the Sky
Vietnam: Listen Slowly
Nepal: Touching My Father's Soul
Africa:
Gabon: Tarzan Alive
Botswana: The Miracle at Speedy Motors
Zimbabwe: I Will Always Write Back
Canary Islands: To Sail a Darkling Sea
Nigeria: My Life in the Bush of Ghosts
Tunisia: Front Lines
Kenya: The Crocodile's Last Embrace
South Africa/Rhodesia: The Man in the Brown Suit
Tanzania: Untamed: The Wild Life of Jane Goodall
South America:
Chile: * I Lived on Butterfly Hill
Argentina: Lights Out!
Antartica:
Oceania:
Europe:
U.K., England: Silver City, Dick Francis's Refusal, Kat Incorrigible, Only a Kiss, Secrets of Sir Richard Kenworthy, Not Always a Saint, Hild, The Beekeeper's Apprentice, Unnatural Causes, Shades of Milk and Honey, City's Son, The Magpie Lord, A Darker Shade of Magic, Only Beloved, A Case of Possession, Only a Promise, Death Cloud, Midnight Blue, Fires of Winter, Over Sea Under Stone, Counterpunch, Only Enchanting, Whisper of Magic, The Blackthorn Key, Coraline, Flight of Magpies, The Hollow Boy, Jackdaw, Sorcery and Cecelia, The Mislaid Magician, Three On the Run, Think of England, Lord Carew's Bride, The Proposal, The Countess Conspiracy, The Winter Garden Mystery, Styx and Stones, Die Laughing, Rattle His Bones, Murder on the Flying Scotsman, Scotsman of My Dreams, Song of the Sparrow, Requiem for a Mezzo, Little Plum, Faro's Daughter, Death at Wentwater Court, Dead in the Water, Sheer Folly, A Mourning Wedding, The Sweetness at the Bottom of the Pie, The Marvels, A Fashionable Indulgence, H Is For Hawk, The War that Saved My Life, Anthem for Doomed Youth, The Viscount Needs a Wife, A Gentleman's Position, A Seditious Affair, Mistletoe and Murder, Black Ship, Superfluous Women, Gunpowder Plot, Heirs of the Body, The Talisman Ring, Fall of a Philanderer, The Bloody Tower
U.K., Ireland: Nory Ryan's Song, Pegeen
U.K., Wales: Miss Peregrine's Home For Peculiar Children: Graphic Novel
Ireland: Dark Witch
U.K., Scotland: Rob Roy
France: Cyrano de Bergerac, Mortal Heart, The Grand Tour
Italy: No Vulgar Hotel, Falling in Love, The Lion of Rora
Germany: The Book Thief, Branded By the Pink Triangle
Denmark: Courage and Defiance
Russia: Symphony for the City of the Dead, Comrade Don Camillo
Poland: Paper Hearts, The Last Wish, But Can the Phoenix Sing?
Norway: Here There Be Monsters
Finland??: The Time Traders
Spain: Penric and the Shaman, Penric's Mission
San Gabriel (fake country between Spain & Portugal): Once a Soldier
Austria: One False Note
Greece: Flowers of Adonis
North America:
Mid-Atlantic:
To Davy Jones Below
Canada:
B.C: The Truth Commission, Cupcakes Trinkets and Other Deadly Magic,
Ontario: All the Rage (guessing), Lights Out!, Out of the Cold
Quebec: Canadian Summer, Friendly Gables
Alberta: Skim (probably)


Caribbean: Under a Graveyard Sky, Islands of Rage and Hope
Alabama:
The Darling Dahlia's and the Eleven O'Clock Lady, Marcb Book Two
Alaska:
Bad Blood, The Great Death
Arizona:
Left For Dead, Galactic Derelict
Arkansas:
California: *
Laura's Wolf, Prisoner, , God Help the Child, Every Last Word, Becoming Naomi Leon, Everything Everything, All the Birds in the Sky, Heat of the Night, Funny in Farsi, Uncovering You: Contract, Farm City
Colorado:
The Six
Connecticut:
This Book Is Overdue, Beholding Bee, Positively
Delaware:
Florida:
A Stranger's Gift, Paper Towns, Find Me, Sunny Side Up
Georgia:
Miracle at Augusta, Magic Shifts, All the Little Liars
Hawaii:
Nursing Homes Are Murder
Idaho:
Illinois:
Grave Peril, Bone Gap, White Night
Indiana:
Here Lies the Librarian
Iowa: A Wanted Man
Kansas:
Rain Is Not My Indian Name, World of Ptavvs
Kentucky: The Kentucky Cycle, Honor Girl
Louisiana:
The Veil, Dead But Not Forgotten, Dead Man Walking, Royal Street, Blackbird Fly, Bayou Magic
Maine: Town in a Cinnamon Toast, Last Summer
Maryland:
A Spool of Blue Thread, Oyster War
Massachusetts:
Parallax, Soldier's Secret, The Secret Soldier, The Sword of Summer, Dog Warrior
Michigan:
Bud, Not Buddy; Libriomancer, Nice Dragons Finish Last
Minnesota:
Spilling Clarence
Mississippi:
The Spies of Mississippi, Blake:Huts of America, Footer Davis Probably Is Crazy
Missouri: How It Went Down, Sisterland, Under the Same Stars
Montana:
Missoula
Nebraska:
Silver on the Road
,
Nevada: Hotel Ruby
New Hampshire:
New Jersey: Airtight, No Normal, Memory Man, Generation Why
New Mexico: Prey For a Miracle, Hour of the Bees
New York:
The Wednesday Wars, Time and Again, Bayard Rustin, Tell the Wind and Fire, Devoted in Death, The Walls Around Us, All-of-a-Kind Family Uptown, Demigods & Magicians, Rapture in Death, The Case of the Murdered Muckraker, I Go By Sea I Go By Land, Fatal Fever
North Carolina:
First Frost
North Dakota:
Ohio: Ready Player One, Bet Me
Oklahoma:
Cross Your Heart
Oregon: Time and Again, The Golden Princess
Pennsylvania: The Eighth Day, Lafayette in the Somewhat United States, George, The Way Home Looks Now, Project Elfhome
Rhode Island: Lemonade Mouth
South Carolina: The Thirteenth Unicorn

South Dakota: 61 Hours
Tennessee:
Give Me Wings, Flight Behavior
Texas: Dumplin', Clean Sweep, House Arrest, Midnight Crossroad, Night Shift, Brown-Eyed Girl, Day Shift, Don't Call Me Hero
Utah:
Vermont: Full Cicada Moon
Virginia: Blue Lily Lily Blue, Thomas Jefferson: Art of Power, Moonshiner's Son, Summer Garden Murder, The Raven King
Washington: *Songs of Willow Frost, Zero to Five, Fire Touched, The One and Only Ivan, Moon Called, Karen Memory, Songs of a Gorilla Nation, Delancey, Blood Bound, Game of Cages, Iron Kissed, Bone Crossed, Bearly Cooking
West Virginia:
Wisconsin
: Death at Gills Rock
Wyoming: Once a Rancher
Washington D.C.: *Waiting For the Party, Most Dangerous, Lock In, Inner Circle
41/51
Outer Space: Venus:
Between Planets, Mercenary Instincts, Imperfect Sword, Venus on the Half-Shell, Radiance, Havoc, Aurora, Breakout, Gentleman Jole and the Red Queen, Ancillary Justice, Star Nomad, Castaway Planet, Star Trek 2, In the Black, Flag in Exile, Dragonsinger, The Ruins of Karzelek, The Assassin's Salvation
Fantasy:
The Gospel of Loki, An Apprentice to Elves, Republic, Pillars of the World
(maybe England, maybe New England),
An Inheritance of Ashes
(no idea where),
The Fifth Season, William Shakespeare's Star Wars: Verily A New Hope, Hamster Princess 2: Of Mice and Magic, Updraft, The Spider's War, Castle in the Air, Mystic and Rider, Bronze Gods, Born of Fury, A Court of Thorns and Roses, Changes, Firewing, Eidolon, Water: Tales of Elemental Spirits, Nine Princes of Amber, Jinian Star-Eye
There are also Mini Challenges. I'm definitely trying the 50 states one, and the continent one (see above) but I'll see how many others I do. Also, she suggests tracking when books go to multiple places, which I haven't tried yet but I might:
Read one book for each ocean (the character travels across the ocean, no matter how)
The mountaineering challenge: climb the Seven Summits
Three Poles Challenge: visit North Pole, South Pole and Mount Everest
Visit a certain number of extreme points of Earth
Read a certain number of books set in capital cities
Read a certain number of books set in at least 5 different places (e.g. road trip books)
Read a certain number of books that are set in two places from different continents
Read a certain number of books within a 100km/1.5 Mile radius of where you live
Visit a certain number of the most famous landmarks in the world
A to Z challenge: Find a place for each letter in the alphabet
Visit a certain number of countries.
Read books from authors from a certain number of different countries.
Read a certain number of books set in places you've visited yourself.