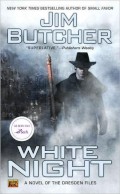 For the Christmas holidays I drive from Seattle, WA to Salt Lake City, a fairly easy day's drive, and I usually pick out audio books from the library to accompany me. I like audio books, especially while driving, but I prefer to listen to books I've read before, because if the suspense gets tight I hate that I can't just listen faster to move along. I've enjoyed most of
Jim Butcher'
s
Dresden Files
books, and I've heard good things about James Marsters as the narrator, so when I saw
White Night
on the library CD shelves I grabbed it.
It turns out that my BIL had the BBC radio adaption of the Lord of the Rings, which easily trumped all my offerings. Just as well; I had forgotten about all the swearing that Dresden indulges in, so it would have been awkward to listen if the kids weren't sunk deep into their headphones. But I've been listening to it during my solo trips in the car and really enjoyed the performance; the Dresden books are all written in first person and the narrator really captured the feel of the self-assured, cranky wizard as he fights bad guys and saves the helpless and never forgives himself if anyone on his watch gets hurt. There are some graphically violent scenes that are probably more vivid to listen to since I think my eyes tend to skitter across when things get too grim.
The funny thing is that I can't remember if I've read this before or not. That's not too uncommon when I start a book, but usually by the end I've figured it out. I vividly recall the scenes about Harry's brother Thomas, especially when Harry and his giant dog invade his brother's apartment and he has to pretend to be Thomas's disgruntled lover, or where Harry and his brother fight together on a boat, but I have zero memory of Elaine, Harry's old lover and a major character in this book. She's also there on the boat fight, and everything about her involvement seemed fresh. Bits of the final fight scene sounded familiar -- the parts where Thomas shows up to help. The rest? Blank slate. I checked my list of books read, but I only have since 2007 in electronic form, so I know I haven't read it since then.
X really enjoyed all the bits I let him hear, so I've ordered up the print version of the first Dresden Files book. We'll see if he likes it even without Marsters whispering in his ear.