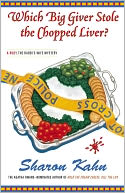 Sharon Kahn
's
Which Big Giver Stole the Chopped Liver
showed up on my
TBR list
, although I haven't the foggiest memory of how it got there, or who recommended it. Perhaps I saw the title and found it outlandish enough to investigate. Of course, it turns out to be one in a series of cosy mysteries featuring Ruby, the rabbi's wife, although technically she's no longer the rabbi's wife since she's a widow and they found a replacement. Now I think she does something involving a bagel restaurant.
Anyway, she's still friends or enemies with most of the bigwigs at the temple, including the new rabbi and both the major donors, who are throwing a huge reunion event as part of an enormous fund-raising event. Most of the attention is on Ruby's life, her friendships, courtships, and family, with occasional glances at the murder victim found face down on the chopped liver platter. Ruby's courtships help with these glances, since one beau is the detective and the other a hungry news reporter.
As a cosy, it was entertaining, with small but sharp glimpses into Ruby's microsociety. As a mystery, it lacked suspense, because even though this book is the middle of a series it was obvious which characters would be coming back and so were ineligible as suspects. So the arrow of guilt was fixed before any clues appeared, and the final action sequence was as incoherent as it was illogical. I probably won't seek out the rest of the books about Ruby, but if I find myself trapped in a hotel room with them I won't complain.