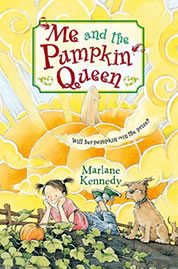 Last year I read about Rhode Island hobbyists and their quest for the biggest pumpkin, so when I saw this gourd centered book on the shelf during my Reading My Library selections I grabbed it up. (And this one takes place in Ohio, so another state knocked of Where Am I Reading this year).
Marlane Kennedy
's
Me and the Pumpkin Queen
follows the pumpkin season with eleven year old Mildred, who started growing pumpkins the year her mother died.
I felt smugly knowledgeable as Mildred explains many of the details of growing giant pumpkins, some of which are actually easier for a kid (less packing down of the dirt walking around if you only weigh sixty pounds anyway). She fertilizes, prunes, protects, and selects while hanging with her chess playing friend, fending off her well-meaning aunt who thinks pumpkin growing isn't all that feminine, and playing with the dogs her vet father keeps bringing home.
The ending is predictable (she wins the prize!) but disappointing in that she stops growing competitive pumpkins. It turns out that growing pumpkins was just a stage in her grief over losing her mom, not a real interest in an intelligent kid, which I found profoundly sad.